Metaverse
Introduction to Metaverse Venue
IDW '22 will adopt a web-based metaverse communication spaces. Attendees can easily enter the venue with their web browser without installing VR equipment or applications. The main feature of the space is that attendees can feel the presence of other people as avatars. How to use it is shown at the bottom of the page.
We hope attendees can feel the crowded atmosphere in the venue.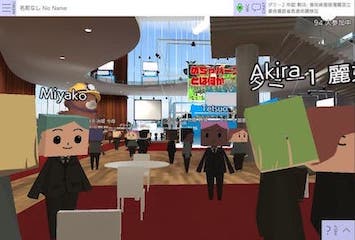 Access to Metaverse Venue
The Metaverse Venue will open from 9:00 on December 15.
The URL will be available on the online program site (Confit).
Events
Special Lecture
December 15, 9:00-9:40
"Metaverse Applied Research and Technologies (tentative)"
Tomohiro Amemiya (The Univ. of Tokyo)
Metaverse Venue Experience
December 15, 9:40-10:00
All participants are welcome to join the Metaverse Venue. We expect participants to stroll around the venue, gather together and communicate with each other.
Recorded Oral Sessions
December 16
Two sessions will be provided.
MVS-1: Metaverse AI
The session shows Metaverse and AI combinations like CNN based image materials and QAOA (Quantum Approximate Optimization Algorithm).
MVS-2: Metaverse Space & the Five Senses
The session shows several technologies for industrial domains regarding how to utilize real and virtual spaces.
Exhibition
December 15, 9:30-16:00
December 16, 9:00-15:00
Each showcase in the venue shows exhibition content as pictures or videos. Attendees can drop by each showcase and talk with exhibitors in each area. Also, attendees can voice chat with other attendees when they stand in the red carpet zone.
IDW '22 Awards Announcement
December 20, 13:00-13:30
IDW '22 Award Winners will be announced.
Panel Discussion
December 20, 14:00-16:00
Metaverse experts will join the panel discussion. They will introduce their experience and discuss several themes. Detailed information will be announced soon.
How to Use Metaverse Venue
Basic operation instructions are available here
After entering the venue, first of all change your name. Changing names is optional but recommended for communicating with other attendees.
Right-click on the venue pages and confirm the menu area at the left side of your screen. Next, input your name on the screen's upper left side and press the enter key. Your avatar's name has been successfully changed!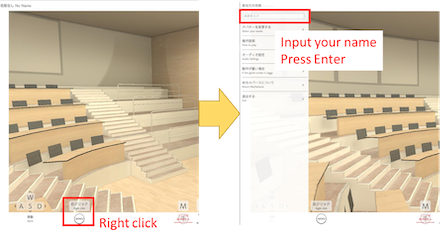 Go to a teleport spot using the WASD key. If you find a teleport spot in the following screen shot, just dive into the spot. You can teleport to the main venue.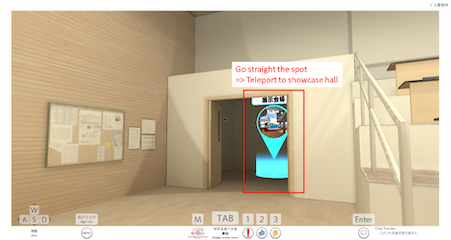 In this venue, several exhibition booths will open. You can move freely in the venue. If you'd like to talk with someone, stand in the red carpet area. All attendees can use voice chat when they stand in the red carpet area.
You can check the image of the metaverse venue here (YouTube: Please use the auto-translation function.)
Trouble Shooting
If you can not access the virtual space, use your private devices and network.